Galloway red kite chicks reach record levels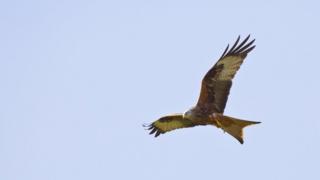 A project to reintroduce red kites to Dumfries and Galloway has seen the number of chicks fledged break the 100 barrier for the first time.
RSPB Scotland has confirmed 91 nesting pairs in the region with at least 112 chicks this year.
The Galloway project started in 2001 and was described at the time as the most significant bird event in the area for decades.
It brought the birds back to the area after an absence of 130 years.
Galloway Kite Trail Community Liaison Officer Calum Murray confirmed the record breeding figures for this year.
Nearly 85% of nesting pairs were successful, resulting in the high number of chicks.
The kites were originally released in the Loch Ken area, the exact location kept secret to allow them the best chance of survival.
'Clear evidence'
A feeding station set up at Bellymack Hill Farm has been in operation since 2003 as a tourist attraction for red kites but follows advice issued by the RSPB Scotland.
Mr Murray said it would take time, however, for the birds to extend their reach outside of Galloway.
"There is clear evidence that our population is slowly spreading as was intended, with some pairs now nesting up to 25 miles from the feeding station," he said.
"However, red kites are gregarious and like many social species, spread slowly over time.
"For this reason, they will take time to repopulate other parts of Scotland.
"Most of the population do not use the feeding station but rather, hunt and scavenge naturally, many of which will benefit from silaging, haymaking, harvesting and ploughing as well as finding roadkills."
---
Get regular news, sport, travel and weather updates for the Borders and Dumfries and Galloway on our South of Scotland live page.
---