Borders rail campaigners in new line call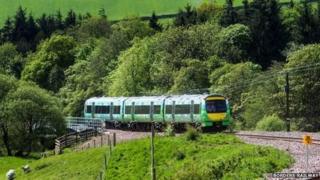 The Campaign for Borders Rail (CBR) has urged others lobbying for the re-opening of rail lines in Scotland to learn the lessons of their campaign.
The campaign will see the return of trains on 6 September.
CBR described it as "one of the greatest achievements of grassroots rail campaigning in British history".
The Queen will officially open the new rail line between the Scottish Borders and Edinburgh next month.
Acknowledgment of CBR's pioneering work has come from two campaigns in Fife who are hoping to put new routes on the Scottish railway map.
CBR founder member and its first chairwoman, from 1998 until 2002, Petra Biberbach said in CBR's case "well-informed and constructive criticism eventually brought some significant improvements to the Borders Railway specification".
Allen Armstrong, of the LevenMouth Rail Campaign (LMRC), said: "LMRC has been inspired by the recent wave of rail re-openings, especially the Borders campaign, and the reimagining of a more rational and inclusive transport network"
Jane Ann Liston, convener of the STARlink campaign, which has led a 26-year fight for reinstatement of five miles of track between the East Coast Main Line and St Andrews, which was closed on the same day as the Waverley Route through the Borders, - said: "The sheer dogged persistence of the campaigners in the Borders and their refusal to give up for nearly 50 years shows that tenacity pays off in the end."