Tickets for new Borders Railway finally go on sale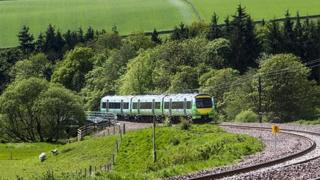 Tickets for travelling on the new Borders Railway have finally gone on sale, ScotRail has confirmed.
They were expected to be available from the train operator's website from last Sunday.
However a glitch with the site meant travellers were unable to make their purchases.
ScotRail said customers are now able to buy tickets for journeys from 6 September - the first day of the new service.
They are available from its website.
ScotRail's communications director, Rob Shorthouse, said: "We're delighted to confirm that tickets for travel between Edinburgh Waverley and Tweedbank, and all stations in between, are now available.
"This is another important step towards the opening of the new Borders Railway.
"Bringing trains back to the area will open up amazing opportunities to local communities, and will allow people from all over Scotland to visit new areas."
The 30 mile railway will run from Edinburgh to Tweedbank. It is the longest domestic railway built in Britain for more than 100 years.