Plans mooted to overhaul health care in Langholm area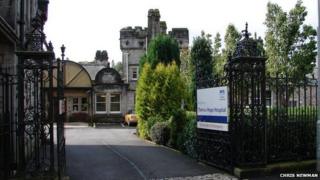 The prospect of overhauling health care in Langholm and the Esk Valley has taken another step forward.
A new health and social care facility serving the area has been made an investment priority as part of plans to integrate NHS and local authority care.
Five proposals have been tabled, which include plans to replace the existing Thomas Hope Hospital.
Local councillor Dennis Male said the building was no longer fit for purpose.
"Thomas Hope is an iconic, wonderful, absolutely beautiful building, it really is," he said.
"But it's not fit for purpose as a hospital any more.
"The health board several years ago recognised that and I know that it was said that if £3m was spend on Thomas Hope, it wouldn't bring it up to modern day standards."
The options have been outlined to Dumfries and Galloway Council's social work services sub-committee.
One proposes building a new hospital with a GP unit, and another outlines plans for a "health and care hub" which includes care home beds.