Trunk of explorer Mungo Park to return to Selkirk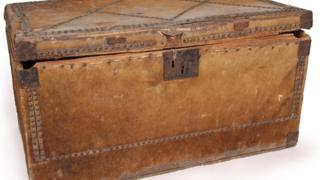 A trunk used by the ill-fated Borders explorer Mungo Park is to go on display in a Selkirk museum.
The historic artefact went under the hammer at a New Zealand auction house earlier this year but it failed to sell.
Now a group of benefactors, including Alexander McCall Smith and Sir Tom Farmer, have raised the money needed to bring it back to the Scottish Borders.
It will go on display at Halliwell's House Museum on 25 June.
The group, which also included Lord and Lady Steel and The Duke of Roxburghe, paid NZ$25,000 (about £12,000) to buy the trunk.
Scottish Borders Council covered additional costs, including transporting the item from Wellington and insurance.
Mungo Park was born in Foulshiels near Selkirk in 1771 and practised medicine in Peebles.
He died while on his second expedition in Africa in 1806.
---
The benefactors are:
Lord and Lady Steel of Aikwood
Sir Brian and Lady Ivory
Sir Angus Grossart
Lord and Lady Smith of Kelvin
Lord and Lady Sanderson of Bowden
Sir Gerald Elliot
Lord Macfarlane of Bearsden
Lord and Lady Tanlaw
Alexander McCall Smith
Sir Tom Farmer
Donald Macdonald of Macdonald Hotels
The Duke of Roxburghe
---
Councillor Vicky Davidson said: "I felt a trunk belonging to Mungo Park should rightly come home to Selkirk."
The explorer brought the trunk back from Africa after his first trip to continent, when he reached the banks of the Niger.
Ms Davidson said: "He no doubt brought back as much as he could to show his sponsors and friends what treasures and wonders were to be found in this far off land."
She added: "After reaching Selkirk, he stored the trunk in Selkirk in the attic of the Langs - family friends.
"Another generation later, the daughter of another Selkirk family, the Curries, also friends of the Parks, emptied the trunk and used it for her voyage as she emigrated to New Zealand
"There has been a fantastic response from those who have so kindly donated towards bringing the trunk back to Scotland and much of it is due to David and Judy Steel.
"The trunk will now be on display and used to help teach local youngsters about this great Selkirk adventurer."
It was put up for auction earlier this year at an estimated price of NZ$50,000 but a buyer could not be found.
A reception to formally hand the trunk over to Scottish Border Council's museum service and to thank the benefactors, who all have an interest in Scottish and Borders history, will take place on 25 June.