Waterloo stirrups used in re-enactment at Penielheugh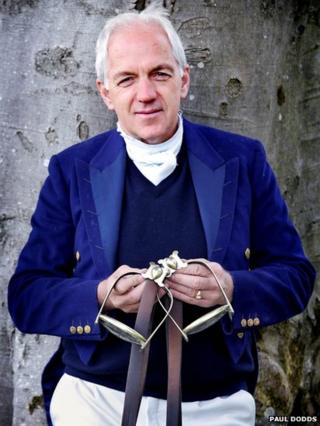 A pair of stirrups used by the Duke of Wellington at the Battle of Waterloo will be used at a re-enactment to mark its 200th anniversary.
Olympic show jumper Ian Stark will play the duke at the event at the Waterloo Monument at Penielheugh near Jedburgh.
The re-enactment of the Hougoumont Farm battle on 28 June will be narrated by broadcaster Peter Snow.
Wellington used the stirrups when riding his horse, Copenhagen, during the famous victory over Napoleon.
They are currently owned by a private collector from Perthshire whose ancestor had been one of the Duke of Wellington's valets.
At the re-enactment the stirrups, an armband which belonged to the duke and a letter explaining their provenance will be given to the current Duke of Wellington, who will donate them to a museum.
He will attend the event with his wife, the Duchess of Wellington, and the Duke and Duchess of Gloucester.
It has been organised by Lothian Estates and a committee of local people.
Michael Kerr, 13th Marquis of Lothian, said: "We're extremely grateful to have been given permission to use these precious, historic objects as part of our re-enactment.
"We think it is extremely fitting that the final time these stirrups will be used for riding will be for an event that commemorates the famous victory achieved by their original owner, Arthur Wellesley, the 1st Duke of Wellington."
The 150ft (45m) Waterloo Monument at Penielheugh was erected by the 6th Marquis of Lothian to celebrate Wellington's victory.
The woodlands that surrounds it were originally planted in the formation of Wellington's troops at the battle.
Horses and soldiers from the Royal Scots Dragoon Guards will also take part in the free event. Their predecessor regiment, the Scots Greys, was one of six Scottish regiments to play a significant role in the battle.
The re-enactment will be carried out by members of the 94th Regiment of Foot and local Army and Air Cadets and it will also feature a horse cavalcade in which local horses and riders will be encouraged to participate.
Lord Lothian said: "Many people will be very familiar with the monument here at Penielheugh, not all will know that it was erected to commemorate Wellington's victory at Waterloo - one that led to many years of peace in Europe following decades of conflict and hardship."