A75 blocked after three-lorry crash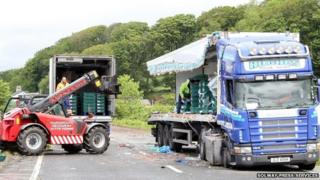 The A75 has been blocked and a truck driver has suffered minor head injuries after a three-lorry crash on the A75 near Creetown.
The incident, at Carsluith, saw a large digger fall off a trailer onto the road just after 03:00.
Debris including parcels, oil, liquids and meat was also strewn across the carriageway.
Police say a recovery and clean-up operation is underway to reopen the route.
The 39-year-old driver of a blue Scania articulated lorry involved in the accident was treated Dumfries and Galloway Royal Infirmary for cuts to his head and arms, and for glass in his eye.
The man from Omagh, Northern Ireland, has since left hospital.
Motorists are being warned to expect delays. A diversion is in place.