Riders flock to Melrose festival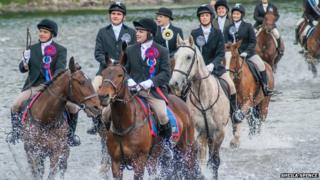 Hundreds of horses and riders have taken part in the Melrose rideout, part of the Scottish Borders town's community festival.
The Melrosian Donald Crawford was joined by representatives from other Border towns, as well as many local supporters.
James Marjoribanks, who chairs the Melrose festival committee, said the week was a "fabulous community event".
A string of other events will take place in the town in the days ahead.
Mr Crawford will be at the centre of proceedings throughout its special week.
"I have been appointed by the town to lead the ceremonies this festival week so I am really looking forward to it," he said.
"Hopefully all will go well."