More than 7,000 music fans expected at Eden Festival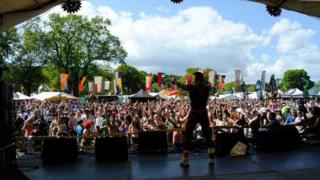 Music fans are descending on Dumfries and Galloway ahead of the Eden Festival this weekend.
The four-day event at Raehills Meadows near Beattock features about 250 acts, including Ms. Dynamite and Grand Master Flash.
Organisers are expecting about 7,500 festival-goers at the event, which begins on Thursday.
Head of production Adam Curtis said it is an important showcase for new, local talent.
He said: "We marry headline acts with our own talent, side by side on the stage and it's a good platform for aspiring bands to step up and have a big audience."