Police officers rescue 'lost' swan from Tongland road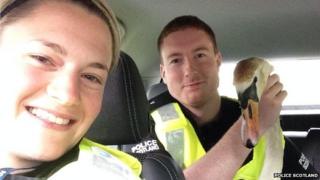 A swan rescued by two police officers was taken to safety in the back of a patrol car.
PC Lisa Ritchie and her colleague PC Ryan Campbell spotted the swan on a road in Tongland near Kirkcudbright.
They feared it had become lost and it was in danger of being hit by passing vehicles.
PC Campbell said: "It looks like the swan had flown off from the cygnets to get food and thereafter became disorientated.
"It was a bit daunting to try and capture the swan however it didn't seem to mind the ride in the police car."
The officers took the bird to Castle Douglas police office before contacting the Scottish SPCA.
The swan was later returned to the water by Scottish SPCA officers following the rescue on Friday, and it was reunited with its cygnets.