Site of Garrick Hospital among NHS assets put on market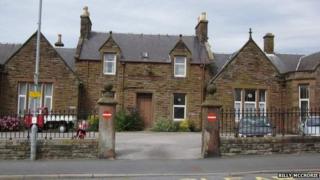 Five properties owned by NHS Dumfries and Galloway have been put on the market.
The site of the former Garrick Hospital in Stranraer, which has permission for the development of 23 homes, has also been put up for sale.
Details of the sales emerged as work began on a new £270m acute hospital on the outskirts of Dumfries.
However the health board has refused to reveal how much they expected to raise from the sale of the assets.
Maryfield Lodge, Huntington House and Cameron House in Dumfries are among the properties that are being marketed by Ryden.
Cromarty House in Stranraer and 19 Bank Street in Annan have also been put on the market.
Maryfield Lodge, on Bankend Road, close to the existing hospital, was used as accommodation for NHS staff.
Huntingdon House and Cameron House housed offices and clinics.
Stranraer's Garrick Hospital closed in 2006 when the £12.5m Galloway Community Hospital opened its doors in the town.
A spokeswoman for the health board said: "NHS Dumfries and Galloway can confirm that we are marketing assets which have been deemed surplus to requirements in line with the NHS Property Transactions Handbook."