The Borders' Common Riding season begins in Hawick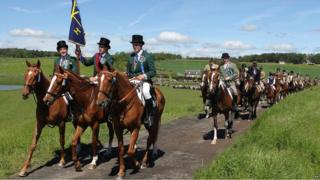 Hawick has kicked off the Common Riding season in the Scottish Borders.
It is the first of a number of towns which will be at the centre of the traditional festivities over the summer.
The Hawick festival celebrates the capture of the English flag by a group of local youths at Hornshole in 1514.
It also recreates the "Riding of the Marches", a tradition dating back to the 12th century when the town's boundaries were checked on horseback.
The towns of Selkirk, Melrose, Peebles, Galashiels, Jedburgh, Duns, Kelso, Langholm, Lauder and Coldstream will also host Common Ridings in June, July and August.
Do you have any pictures - still or moving - of the Hawick Common Riding? Send them to the BBC Scotland's team in the Borders at selkirk.news@bbc.co.uk
Please ensure when filming or photographing that you make your safety and the safety of others a priority.
If you submit an image, you do so in accordance with the BBC's Terms and Conditions.