Plans for five quarries between Carsphairn and Sanquhar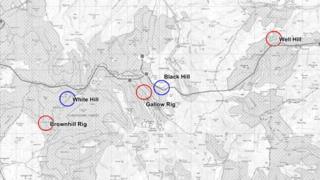 Five new quarries could be excavated in the south-west of Scotland to help with the construction of electricity pylons.
Scottish Power Energy Networks wants to use the stone to build temporary access tracks needed to construct overhead power lines.
A total of more than 21 hectares (51 acres) of land would be excavated if the plans are backed by local councils.
The largest site, Gallow Rig in Carsphairn Forest, would cover a total of 11.73 hectares (29 acres).
SP Energy Networks said they need the quarries to support work on the South West of Scotland Connection project.
Work has already begun on upgrading pylons and overhead lines in Dumfries and Galloway and Ayrshire, as part of a scheme to connect local wind farms to the national grid.
A spokesman for the firm said: "Using locally-sourced rock means that we can keep road traffic to a minimum, as we are not importing rock over long distances by road."
Quarries planned by SP Energy Networks
Name of quarry
Location
Extraction area (hectares)
Total site area (hectares)
Volume of stone (cubic metres)
Brownhill Rig
SW Carsphairn Forest
7.6
9.07
900,000
White Hill
North of Carsphairn
1.99
3.91
110,000
Gallow Rig
2km west of Afton reservoir
4.1
11.73
290,000
Black Hill
Mossmark, New Cumnock
1.95
3.87
47,000
Well Hill
West of Sanquhar
5.4
6.98
308,000
Five separate planning applications for quarries have been submitted to Dumfries and Galloway Council and East Ayrshire Council over the last month.
Reports to the councils by consultants Wardell Armstrong suggest a total of 1.65 million cubic metres of stone could be quarried from the sites.
Work could begin on excavating the quarries in September, if councillors agree to the plans.
SP Energy Networks are expected to use the sites for about 18 months but quarrying may continue after February 2017 at some sites.
A report on the Black Hill plan stated: "Reinstatement of the proposed quarry would be undertaken on completion of the extraction operations."
But it added: "It is anticipated that the landlord...may want to continue extraction of the quarry area and the site would be left in such a way as to enable that to continue."
Carsphairn Community Council has objected to the White Hill application, raising concerns about "industrialisation" of the landscape and local flooding issues.
Separate plans to upgrade power lines between Ayrshire and Cumbria, through Dumfries and Galloway, are the subject of an on-going consultation by SP Energy Networks,
The Dumfries and Galloway Strategic Reinforcement Project proposes a new high-voltage overhead line of up to 400,000 volts between Auchencrosh in South Ayrshire and Harker in Cumbria.