Quintinshill rail disaster centenary marked by services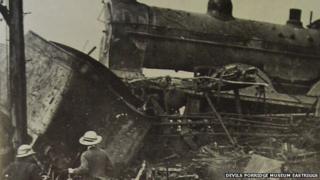 Services are to be held across Scotland over the next three days to mark the 100th anniversary of a rail disaster in which more than 200 people died.
The accident at Quintinshill in Dumfries and Galloway on 22 May 1915 remains the biggest loss of life in a train crash in the UK.
The Princess Royal and First Minister Nicola Sturgeon are scheduled to attend events in Gretna and Leith.
A service is also planned in Larbert to mark the centenary of the accident.
The disaster happened when train packed with troops travelling from Larbert in Stirlingshire collided with a local passenger service.
Almost at once, a Glasgow-bound express train smashed into the wreckage at the Quintinshill signal box, setting off a fire which engulfed the troop train, which was packed with nearly 500 members of the Leith Battalion of the Royal Scots.
More than 200 soldiers were killed, as well as 12 civilians, although some remains were never identified and the exact death toll is uncertain.
In addition to the deaths, there were 246 people injured.
The troops were on their way to Liverpool, where they were due to sail to the front line at Gallipoli.
The Princess Royal will attend an ecumenical service at Gretna along with Ms Sturgeon on Friday and a service at Rosebank Cemetery in Leith on Saturday.
A group of descendants has visited the memorial in the cemetery ahead of that event.
The service will be led by Rev Iain May, minister of South Leith parish church.
Like many people from the Scottish capital, one of his relatives was caught up in the disaster.
He said: "Around 50 of the soldiers who died in the crash were members of my parish and when I was looking through the names for this service that I discovered my namesake, John May.
"It turned out he was my grandfather's older brother, my great uncle.
"He was 24 when he died, which is the same age as my son, and looking at photographs from 100 years ago he really looks like my son, which really brings it all home to me."
Wreaths will be laid at the cemetery on Saturday and soldiers will salute those who died, including Pte James McSherry.
His great grandson, John Edward, was at the memorial to pay his respects.
He said: "I set up a Facebook group to make to make sure that as many people with family involved knew about it and would come along to the ceremonies.
"The reaction has been great, there have been hundreds of people on there.
"There have been incredible stories like a family who lost three brothers, a boy of 16 who was on his way to Gallipoli straight from school and stories of people who were injured and cut themselves free, and there have been amazing pictures shared."
Robin Bell was at the memorial to remember his father Ian Bell, who survived the crash but had the difficult job of recording the dead and injured among his colleagues.
The 82-year-old said: "Just before the train set off my father was asked to move carriage to play bridge but decided to stay where he was with his friends and that saved his life.
"All those playing bridge were killed in the crash.
"My father injured his head and his right arm, but managed to crawl out and rescue some others."
The names of two soldiers from the Royal Scots, George Garrie and William Paterson, have also been added by the Commonwealth War Graves Commission to the memorial within the cemetery.
Prior to the Gretna and Leith events, there is a memorial service in Larbert on Thursday, when a procession involving the military, community groups and local schools will walk from the town's parish church to Larbert station for an evening service.