Battle of Waterloo: Celebration planned at Borders monument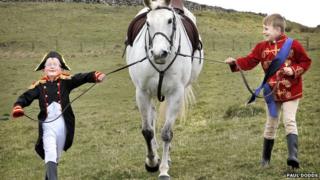 A special celebration to mark the 200th anniversary of the Battle of Waterloo is being planned at a monument in the Scottish Borders.
Scotland's part in the significant moment in European history will be recognised at Peniel Heugh on 28 June.
Battle re-enactments, a cavalry charge, marching and pipe bands and beating of the retreat are some of the attractions scheduled for Penielheugh 200.
It hopes to be a "unique commemoration" of the anniversary.
The Waterloo Monument, near Jedburgh, is thought to be the most significant monument to the battle in Scotland.
It will be the site of the free event marking the Duke of Wellington's victory over Napoleon in June 1815.
Standing 150ft high, the monument was erected by the 6th Marquis of Lothian to commemorate the victory.
'Outstanding bravery'
Michael Kerr, 13th Marquis of Lothian, said: "The Battle of Waterloo was a truly significant moment in our history that led to peace in Europe after many years of conflict and hardship across the continent.
"Hundreds of Scots were involved in the battle and we believe it is right to remember their outstanding bravery and sacrifice."
He said many people would be familiar with the monument but perhaps few recognised its "true significance".
"I'm therefore delighted that we are commemorating the battle through an event that will provide a real spectacle for people from the Scottish Borders and beyond," he added.