Carnsalloch House plan review sought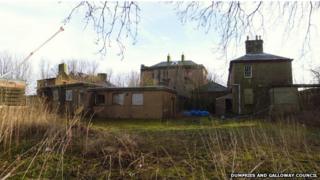 A review is being sought for a rejected residential development on the site of a historic mansion near Dumfries which has fallen into disrepair.
Proposals have been lodged to convert Carnsalloch House and build a number of new homes.
Dumfries and Galloway Council has ruled that the project is not in keeping with the A-listed building.
Developers said all technical issues had been resolved and that design concerns were a "subjective issue".
The Palladian mansion house at Kirkton was built in the middle of the 18th Century with a number of extensions over the years.
From the late 1960s until about 2000 it was owned by the Leonard Cheshire foundation.
However, in recent years it has been empty and fallen into such a state of disrepair that it has been placed on the Buildings at Risk Register.
Developers said they wanted to "work together" to save the property which they said had been targeted by vandals, fireraisers and drug-users.
'High standard'
The project secured more than £350,000 of Scottish government support nearly three years ago but has been unable to secure planning permission.
Consent was granted in 2010 to convert the mansion into six homes but the applicants want permission to build an "enabling development" of four terraced houses and four detached properties in order to raise funds.
Problems with flood risk, road safety and natural heritage have now been addressed.
But the council remains of the view that the new homes being proposed would not "achieve the high standard of design required" in proximity to a listed building.
Planners said it would produce an "unsatisfactory modern development" near the historic property.
A review meeting is now planned to see if a way forward can be found.
---
What do you think should be done to help safeguard a future for historic buildings like Carnsalloch House? Should new developments be allowed nearby to help fund their repair or is their architectural integrity too important to allow such plans? Email your thoughts to dumfries@bbc.co.uk