Evicted eagle turns up safe and well in Dumfries and Galloway
A young white-tailed eagle whose dramatic nest eviction was caught on camera has turned up safe and well in Dumfries and Galloway.
The eagle, nicknamed Sona, had to be returned to her nest by Forestry Commission Scotland climbers last June.
The bird had been attacked by an intruding eagle on the Isle of Mull and fell 30ft to the ground.
Sona has now turned up in south west Scotland, where white-tailed eagles have not bred for more than 150 years.
The attack last year was a surprise to experts as that type of behaviour had not been recorded before.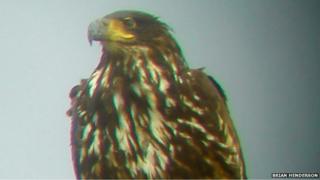 Dave Sexton, RSPB Scotland's Mull officer, said: "We know this bird well after all the drama last summer, and I'm extremely relieved to hear that she's alive and apparently healthy.
"We got her back into her nest uninjured after her dangerous fall, and she fledged a few weeks later.
"But that's often the last we'll see of these young eagles, as they wander quite widely in their first few years."
He said it was unusual to have so many sightings of a juvenile bird in Dumfries and Galloway, even though it was "perfect eagle habitat".
"She's gone from the Isle of Mull to the Mull of Galloway probably via the Mull of Kintyre so she clearly likes to mull things over," he added.
Dramatic footage
Sona, which means "lucky" in Gaelic, was one of the stars of the BBC's Springwatch in 2014.
She was just eight weeks old when she was forced from her nest on FCS land on Mull.
A member of the public, who had been watching the nest webcam, alerted the Mull Eagle Watch team to the truth behind her tumble, allowing the dramatic footage to come to light.
It was also members of the public who spotted the bird in Dumfries and Galloway, and their photographs and film sent to the RSPB allowed her to be identified.
---
Factfile, white-tailed sea eagle
White-tailed sea eagles are found near large bodies of water and coastlines across Europe and parts of Asia.
Standing at an impressive 1m high with a 2.5m wingspan, they are the largest eagles in Europe and the fourth largest in the world.
Sea eagles hover over water, plucking fish from the surface with their strong talons and often eating them in flight.
They became extinct in Britain during the early 1900s and were re-introduced to Scotland in 1975 where they've since started to breed.
Source: BBC Nature
---
Chris Rollie, RSPB Scotland area manager for Dumfries and Galloway, said: "We'd heard reports of white-tailed eagle sightings from several Wigtownshire locations in the last few weeks, and thanks to her leg rings and local birdwatcher Brian Henderson's photography, we were able to positively identify her as the lucky Mull bird.
"As you can imagine, people have been very excited.
"White-tailed eagles are such distinctive birds and it's an absolute pleasure to see one."
He said the birds had not bred in Dumfries and Galloway since 1856 and Sona was likely to move on.
"But it gives you a real glimpse of what the future could be and the hope there is now, just 40 years after their re-introduction, that these magnificent birds could once again be seen in our skies right across Scotland," he added.