Joseph Byers: The first Scot shot for desertion in World War One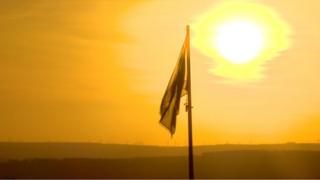 A hundred years ago tomorrow a young Scottish solder was shot and killed on the battlefields of France.
Unlike fallen comrades who were hailed as heroes, Pte Joseph Byers of the Royal Scots Fusiliers died in disgrace; the first Scot court-martialled and executed for desertion during World War One. He was 19.
Pte Byers' service record survives but the space where his medal honours should be is blank, save for the words "forfeited" and "shot".
Pte Byers had been sent to collect coal for the fires but didn't come back. He was arrested by a French policeman and handed over to the British authorities as a deserter. His trial was swift. He pleaded guilty and was sentenced to be shot to death.
At dawn on 6 February 1915, he was taken out, blindfolded and tied to a post with a white marker pinned to his chest for the 10-man firing squad to aim at. In this ignominious way, Pte Byers became part of the history of the Great War.
Galloway-based Paul Goodwin, of the Scottish Military Research Group, has a copy of the will Byers had scribbled in the back of his army pay book which read: "In the event of my death I give the whole of my stuff to my sister Nellie Murray." It was signed and dated 28 December 1914.
"Little did he know he'd be dead within six weeks, shot by his own side," reflected Mr Goodwin.
Joseph, who was also known sometimes by his sister's surname Murray, was one of 39 Scots executed for desertion between 1914 and 1918, regarded then as a shameful death.
"The consensus at the time was that there were men out there doing their best and dying and that these (deserters) had let the side down. They were a disgrace to their parents and their family, " says Mr Goodwin.
Since then, times have changed. In 2007 the deserters were given a Government pardon. Ten years earlier their names had been added to the lists of fallen at the Scottish National War Memorial in Edinburgh Castle where Lt Col Roger Binks is the Keeper of the Rolls.
"Over the years there had always been a recognition that anyone who had served his country and had died should be recognised and it seemed wrong that they were missing from that list, irrespective of previous reasons why they may have been missed out," he said.
What was condemned as cowardice a hundred years ago would more likely be viewed now as a consequence of post-traumatic stress disorder.
Mr Goodwin says Joseph Byers was as much a victim of war as anyone else.
"Joseph Byers wasn't a conscript, he was a volunteer. He went to do his bit," he said.
"There's no evidence he did anyone any harm whatsoever, other than when he went off to get coal he never came back.
"He didn't leave his mates in a jam, he just wasn't there when he should have been and that seems to be me to be a particularly harsh punishment."
Previous histories have linked Pte Byers with Dumfries but that has since been shown to be incorrect.
However, he was also known by the name Joseph Murray and both surnames have strong links to Dumfries and Galloway.
On the centenary of his death Mr Goodwin hopes a family or a community will emerge to claim Joseph Byers as theirs and and remember him with pride, not shame.
As a victim of war, not a coward.