Teenagers arrested over fire at Gala Fairydean Rovers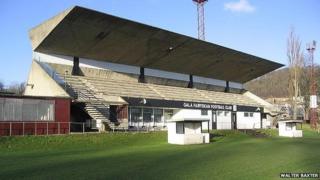 Three teenagers have been detained by police investigating a suspicious fire at Gala Fairydean Rovers football club.
Historic photographs and club records were destroyed in the blaze in the hospitality suite in Galashiels.
Two 15-year-old boys and a 16-year-old boy have been reported to the Children's Reporter for wilful fireraising.
They have also been reported for housebreaking, thefts from vehicles and vandalism.
The crimes were carried out in the Selkirk and Galashiels area in the early hours of 23 December.
About 30 pennants handed over by visiting teams and club merchandise worth £1,000 were destroyed in the fire, along with furnishings and other equipment.
Broken glass and debris from the clubrooms were left scattered across the 3G pitch.
Insp Tony Hodges said: "These youths caused a considerable amount of damage in a short space of time.
"In particular the wilful fireraising of the hospitality suite at Gala Fairydean Rovers FC has had a significant impact on the local community, with priceless memorabilia and club records destroyed.
"This type of behaviour is totally unacceptable and will not be tolerated."