Landowner Ninian Stewart fined after gamekeeper Peter Bell poisoned buzzard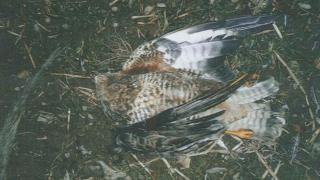 A landowner has been fined £675 over the actions of a gamekeeper who illegally poisoned a buzzard.
Ninian Stewart was the first person to be convicted under a new wildlife crime law that means people can be held liable for the actions of employees.
Stewart, 66, was the employer of Peter Bell who had previously admitted poisoning the bird near Whithorn, Dumfries and Galloway.
Bell's actions resulted in the death of a buzzard in December 2012.
Stewart, who admitted four charges at Stranraer Sheriff Court, was the first person to be prosecuted and convicted under section 18A of the Wildlife and Countryside Act 1981.
The law created a new offence of "vicarious liability" which means that a person who has shooting rights over land - or who controls the exercise of such rights - can be found guilty of crimes committed by an employee acting as their agent.
Bell was a full-time gamekeeper employed by Stewart when he laced a pheasant carcass with carbofuran and set the bait in the field at Glasserton Home Farm.
'Proactive responsibility'
A birdwatcher passing the farm later came upon a dying buzzard. Tests later showed it had ingested the poisoned bait.
The Crown Office said that while there was no indication that Stewart had commissioned or knew about the offences, there was also no evidence he had exercised due diligence in respect of shooting on his estate.
Procurator Fiscal Sara Shaw said: "There is a proactive responsibility placed on those who employ gamekeepers to run shooting estates, to ensure that is done within the parameters of the law.
"These offences were committed almost a year after the vicarious liability offence (under section 18A of the Wildlife and Countryside Act 1981) was introduced. Mr Stewart had adequate notice and time in which to take advice and put appropriate measures in place.
"Mr Stewart failed in his responsibilities and as a result stands convicted of the killing of a wild bird."
Scottish Land & Estates, which represents landowners across Scotland, said the gamekeeper was subsequently dismissed from his post and the shoot closed down.
A spokesman said: "The estate believed it had sufficient safeguards in place but that was not the case so the estate has admitted ignorance of the law and the limited extent of its culpability is reflected in the low level of fine.
"Before this incident, the estate had an unblemished record. When Vicarious Liability offences were introduced there was a great deal of confusion over the liabilities of estates and that remains an ongoing issue despite the industry trying its utmost to advise on the pitfalls of this legislation."