Funding agreed for children's home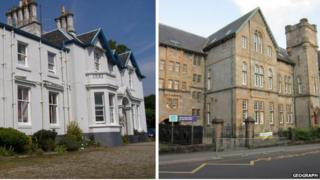 Argyll and Bute Council has agreed millions of pounds of investment to build a new house for children and young people in need of care.
The new £1m custom-built home will replace the existing Dunclutha House in Kirn.
The council said it would continue to provide short, medium and long term residential placements for children and young people.
It also agreed to invest £3.5m in an upgrade of Dunoon Primary School.
Additional funding of approximately £4m is expected from the Scottish government, following a funding application from the council.
The views of children, young people and the existing staff team of Dunclutha House have been taken on board in the design of the new £1m care home to be built in Dunoon.
Plans for the new, modern single storey property include six bedrooms and a large landscaped garden surrounded by mature trees.
The project is scheduled for completion for the end of June 2016, with children and staff moving into the new house the following month.
The council's policy lead for children and young People, Councillor Mary-Jean Devon said the new house would provide "a supportive, nurturing home for our young people".
School upgrade
Policy lead for education, Councillor Aileen Morton said the upgrade of Dunoon Primary School would bring capacity for 300 pupils and 30 early years places, while a new sports hall would also be built.
Ms Morton said: "Following the council's commitment earlier this year to provide a new Kirn Primary School, I am pleased to see another significant step forward being taken in delivering high quality school facilities for all young people in Argyll and Bute."
The decision to upgrade the school follows consultation between the council, the Scottish government, Scottish Futures Trust, Historic Scotland and HubNorth Scotland Ltd.
It was agreed that a complete demolition, rebuild, or facade retention would not be consistent with the listed nature of the building and that a refurbishment, with part new-build, was the only deliverable solution.
The improvements to the primary school are due to be completed by August 2018.