River Nith search for teenager Macauley McQueen continues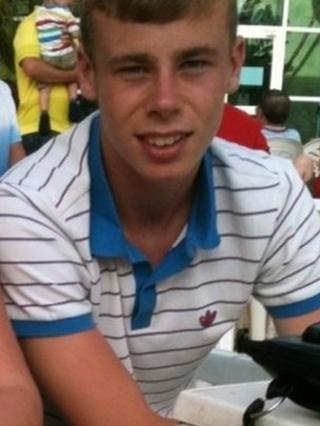 Police are continuing their search for a Dumfries teenager last seen entering the waters of the River Nith in the early hours of the morning.
An extensive search has been ongoing to try to find Macauley McQueen, 18, of the town's Goldie Crescent.
He was seen going into the water at the boathouse on the Greensands area at about 01:00.
Emergency services have been searching the area but have so far failed to find the teenager.
When last seen he was wearing a white River Island T-shirt, skinny Jack Jones blue jeans and blue Adidas Gazelle trainers.
Police, the Scottish Fire and Rescue Service, the Nith Inshore life boat and coastguard have been involved in the search along with a Royal Navy helicopter.
Insp Ian Cowie, search manager with Police Scotland, said: "Extensive searches have taken place along the length of the river downstream by a large number of emergency services, however these searches are currently being hampered by the sheer amount of water flowing down the river.
"The searches are being coordinated and will continue in an effort to trace Macauley."