Woman dies in car and van crash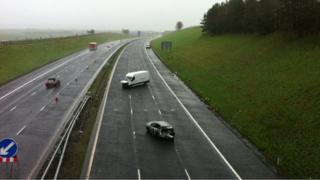 A woman has died in a two-vehicle crash on the A74 (M) motorway in Dumfriesshire, police have said.
The collision involved a car and a van on the northbound carriageway about one mile north of junction 20 Eaglesfield.
The motorway was closed in the area of the accident at about 05:45 and traffic was being diverted on to the B7076.
Police said they wanted to talk to a man who was given a lift north from the scene of the crash to the motorway services at Johnstonebridge.
He was described as a man of 30, of Asian appearance, about 6ft tall with dark hair and long sideburns.
The man was wearing a black quilted Barbour style jacket over a dark jumper which had the letters FC in white on it, dark trousers and may have had a wedding ring.
He may have a head injury.
Police said the man was last seen at the petrol pumps and then the main building at the services between 06:00 and 06:30 hours.