Dumfries Victoria Cross recipient James Mackenzie honoured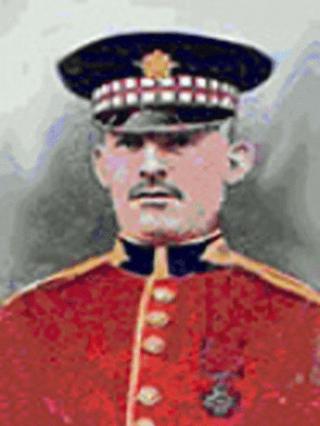 A special ceremony has taken place in Dumfries for the first soldier from the region to receive the Victoria Cross during World War One.
A commemorative paving stone was unveiled and wreaths laid in memory of Pte James Mackenzie.
Relatives and representatives of the British Legion and Scots Guards Association were at the event.
Pte Mackenzie was the first of five servicemen from Dumfries and Galloway awarded the VC during World War One.
It is planned to honour all of them with commemorative paving stones between now and November 2018.
Mackenzie, who went to school in Dumfries, enlisted in the Scots Guards in February 1912.
He was sent to France in October 1914 as a private in the 2nd Battalion of the Scots Guards.
Two months later, he rescued a severely wounded man from in front of German trenches after a stretcher party had been forced to abandon their attempt while under heavy fire.
Later the same day, Pte Mackenzie was shot dead by an enemy sniper while attempting a similar act.
He was subsequently awarded the VC for conspicuous gallantry.
His great-nieces, Rhona Wilson and Evelyn Henderson, took part in the ceremony.
Ms Wilson said: "We have been brought up with the story of our great uncle all our lives.
"Both of our fathers were incredibly proud that they had an uncle who won the Victoria Cross and we are so proud that this is happening now."
His nephew, John Eckford Hutchinson, 83, said he was "very, very proud" to be at the ceremony at Maxwelltown War Memorial.
"His body was never recovered. What I want to do now is go out there to the border of France and Belgium, where he died. That would be the end of the jigsaw."