'Lost' rare moss discovered in Scotland after six decades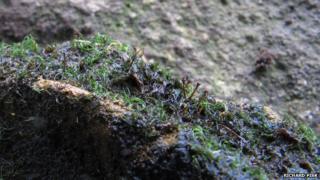 A rare moss thought to have become extinct in Scotland has been uncovered in rural Roxburghshire.
Water-rock bristle was last found north of the border in the 1940s.
There were fears it had died out when a series of expeditions led by leading moss expert Dr David Long failed to uncover the plant.
Earlier this year, three decades after his search for the tiny moss began, the renowned bryologist discovered the dark green shoots near Newcastleton.
It was on a limestone boulder, next to a burn and partially submerged in water.
Dr Long, a bryologist from the Royal Botanic Garden Edinburgh, said: "It was first found in 1948 in Newcastleton and I have been looking for it for the last 30 years. We thought it was extinct.
"We had another go at it in September and we found it. It's probably in other places but it's so tiny and most of the time it's hidden from view."
The moss, whose Latin name is seligeria carnoilica, has been recorded at a site in Northumberland and at a handful of places in Slovenia and Sweden.
But it is so rare, very little is known about it.
It was first found at the Black Burn near Newcastleton by Evelyn Lobely, another bryologist.
She repeatedly returned to where she thought she found it but she never saw any more.
Dr Long said he found the moss with a group from the British Bryological Society when they explored a new area of the burn, when the water level was very low.
He said: "We searched the limestone outcrops and detached boulders in and close to the stream under the shade of the ash and alder trees.
"Remarkably we found the moss quite quickly, on a half-submerged boulder, and soon after found some extensive patches of it, complete with fruit bodies (sporophytes) on some almost vertical limestone strata emerging from the water.
Dr Long has studied mosses around the world, most recently in the Himalayas, at Bhutan.
He said: "I have found lots of a species new to science but when you find something near your home, it's a special kind of thrill.
"When you look at these things worldwide, you realise how rich Scotland is. We have a fantastically rich diversity of low plants."