Kirkcudbrightshire's 'Coo Palace' saved from falling into ruin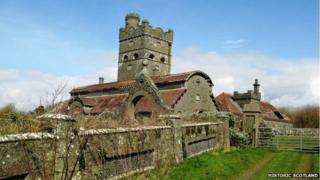 A "Coo Palace" built by a wealthy landowner to house his cattle has been saved from dereliction.
The landmark building - designed to look like a castle - was constructed in rural Kirkcudbrightshire in the early 1900s to house a herd of 12 cows.
But it fell into a state of serious disrepair and in 1991 it was placed on the Buildings at Risk register.
Now plans are in place to preserve the architecture and to convert the former dairy into luxury holiday apartments.
Part of Corseyard Farm, near Borgue, the Coo Palace was built by Manchester merchant James Brown, who retired to nearby Knockbrex in 1895.
It looks more like a medieval castle than a practical cattle shed however, as it is decorated with prominent buttresses, arrow slits and turrets.
For several decades it has be unused and almost derelict, but now there are plans to breathe new life into the building.
Ian Nicholson, of JMP Architects of Lancashire, is drawing up plans to restore the unique building.
He said: "The complex consists of a barn, cart shed and stabling, and the 23 metre high water tower is a significant local landmark.
"The dairy incorporated modern agricultural solutions and the buildings are constructed utilising a plethora of innovative materials and unique details.
"Unfortunately the buildings have fallen into a dangerous state of disrepair and we are pleased that a new use will ensure the buildings are sensitively restored and retained for posterity."
Holiday Property Bond, which has bought the eight-acre site, plans to convert the buildings into 21 holiday cottages and eight luxury flats.
Mr Nicholson added: "The arts and crafts buildings are unique and flamboyant, reminiscent of a medieval castle built to display the wealth and scientific enlightenment of the owner.
"The redevelopment of the site will ensure the fabric of these wonderful buildings in a magnificent landscape context are preserved, enhancing and contributing to the local economy once again."