MP Michael Moore writes to NHS Borders on closure plans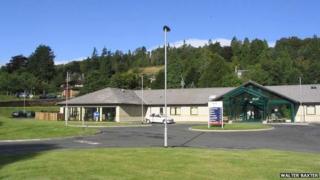 Borders MP Michael Moore has joined a campaign against the threatened closure of local community hospitals.
NHS Borders is currently carrying out a review of four hospitals in Peebles, Hawick, Duns and Kelso.
Mr Moore has written to the health board to urge them to keep the facilities open.
Meanwhile almost 2,500 people have signed a petition against the controversial plans.
The Lib Dem said: "I am deeply concerned that our local community hospitals in Hawick, Kelso and Duns may be in danger of closure.
"These hospitals provide a vital service to people here in the Borders and it would be devastating to our local communities if we were lose them.
"I have written to NHS Borders calling for clarity around the review and for assurances that the threat to our Community Hospitals will be lifted.
"The closure of our local hospitals must not happen so I am urging NHS Borders to think again."
Dr Sheena MacDonald, the health board's medical director, has said that any changes should ensure a service which was "at the very least" as good as at present.
She said the saving money on buildings could allow the health board to invest in areas such as staffing.