Dumfries and Galloway 'Black Eye Friday' warning issued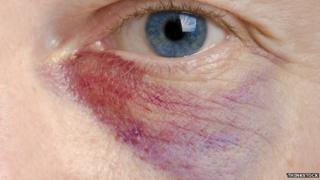 Police in Dumfries and Galloway have urged the public not to turn the night when many people start their Christmas holidays into "Black Eye Friday".
They have issued a list of advice in a bid to "keep people safe" over the party season.
It also highlights the consequences of consuming excessive alcohol.
Operational Commander for Dumfries and Galloway, Mike Leslie, stressed: "Police Scotland are not out to spoil the festive period."
Other advice being issued included:
Remember to book a taxi to get home from a night out
Check that your taxi is licensed
Make sure your mobile phone has plenty of charge
Don't leave your drinks unattended
Don't use drugs or so-called "legal highs"
Stay with friends throughout the night
Never take isolated short cuts on the way home
Supt Leslie said: "Having a good time should not impact on those who just want to have a peaceful festive season.
"They have a right to have a quality of life as well, and we will be out in numbers, in all areas of the division, to make sure they do.
"This year, let the last Friday before Christmas, traditionally when people break up for the holidays, be remembered as Festive Friday, and not Black Eye Friday, as people go out to celebrate at office and works parties."