Musicians 'singing back to life' forgotten Galloway folk music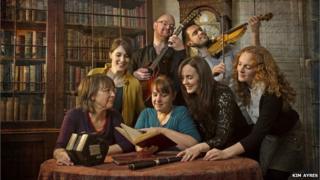 For almost 100 years a collection of long-forgotten Scottish folk songs has been confined to the pages of a couple of historic volumes in a Kirkcudbright library.
Compiled by Galloway-born William Macmath at the turn of the 20th Century, they are a meticulous documentation of some 80 traditional musical arrangements sourced from across Scotland.
Now a group of musicians from Dumfries and Galloway are hoping to breathe new life into the compositions and they are making plans to stage performances of a selection of the works next year.
It is being led by songwriter and community choir director Alison Burns, who found Macmath's handwritten notes and letters in Broughton House, Kirkcudbright, 10 years ago.
They were part of the collection of Edward Hornell, one of the Glasgow Boys, who lived in the house which is now owned by The National Trust for Scotland, in the early 1900s.
"Culturally, this is massively important," Ms Burns said. "We are singing them back to life."
Working with folk song experts Alison McMorland and Geordie McIntyre, she believes they have identified at least one completely unique version of one song and several others which are very rare.
One of their discoveries, The Queen of the Fairies, is thought to be a completely unknown version of the popular ballad, Tam Lin.
Another, The Nettle, could derive from the singing of the mother of James Hogg - the Scots poet known as the Ettrick shepherd.
'Fantastic songs'
Musicians Emily Smith and Robyn Stapleton, both winners of BBC Scotland's Young Musician of the Year award, will be among those recording and performing the work in 2015.
They will also be composing tunes to accompany lyrics that have been written without scores, and fixing "broken" songs that might be missing a line, for example.
"It's something that's really important to me, to encourage people to sing and to bring these local songs to life so they're not lost," said Ms Stapleton.
"We have got some fantastic songs that I have been working on personally and I am looking forward to be able to perform songs that people haven't heard before."
Ms Burns said: "Everyone is hugely excited about the project, particularly that it's a real Dumfries and Galloway product. The songs are from all over the country, but they have been held here, Macmath came from here, and we are all based here."
Macmath was brought up in a large, musical family near Loch Ken in Galloway. A solicitor's clerk with impeccable handwriting, when he moved to Edinburgh he volunteered to help the American academic Francis Child research Scottish ballads after spotting an advertisement in a newspaper called Notes and Queries in 1873.
That was the beginning of a 30-year correspondence between the pair. Macmath travelled across the country sourcing folk songs that were eventually included in Child's English and Scottish Ballads 1882-1898.
Even today the six-volume tome is considered a definitive work, but despite Macmath's painstaking research of Scotland's songs, his contribution has been largely overlooked.
"Child got all the accolades for publishing the book but Macmath did a huge amount of work and he was largely unacknowledged, even by Child," said Ms Burns.
'Enormously surprised'
Their letters are among the documents in the Broughton House archive but many of the musical scores and lyrics date from after Child's death in 1896.
Ms Burns said: "After Child died there was nowhere to send bits and pieces of songs any more. I'm not 100% sure that's what's in Kirkcudbright but I'd hazard a guess."
Prof Mary Ellen Brown, of Indiana University Bloomington is an expert on Child and Macmath. She said their work has been studied by scholars, students and singers since it was published in the 1800s.
"I suspect that William Macmath would be enormously surprised that the songs he was stimulated to collect while working with Professor Child were being sung again in the 21st century," she said.
"He and Child thought of the ballads as very old and what they were able to collect and gather as being evidence of that earlier time of the ballads' existence."
She added: "For Child he was an enormous help - on the ground in Scotland - and perhaps it is fair to suggest that Child's work would be very different if Macmath had not been a part of its development.
"Macmath's work with Child deserves to be known more fully."