Borders community hospitals future considered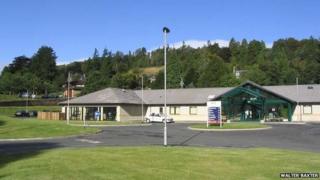 NHS Borders will be examining the future of four community hospitals as it looks to redesign health services.
It currently operates facilities at Peebles, Hawick, Duns and Kelso.
Medical director Dr Sheena MacDonald said that saving money on buildings could allow them to invest in areas such as staffing.
She said any changes had to be made for "absolutely the right reasons" and should ensure a service which was "at the very least" as good as at present.
Dr MacDonald said there were already examples of services being reshaped - such as in dementia - and being able to provide better care for more people.
She said that meant considering where the health board wanted to target its resources.
"At the moment health has three big areas of spending - one on staff, one on buildings and one on drugs," she said.
"If we can reduce our spending on buildings and less overheads for heating and lighting that will allow us to use the same amount of resource for a much larger group of people by investing in more staff."
However, she stressed any changes had to be discussed with the public first.
"As clinical leaders it is our job to engage with the public," she said.
"We know that if we take our resource away from our buildings we are able to put more into our staff and able to have more people out in the community looking after more patients."
'Better outcomes'
She said that public opinion - and even opposition - was a vital part of developing their plans.
"It is good to have that challenge, sometimes there are things we haven't thought about," she said.
"So we want to hear what the cynics have to say and we want to engage in a discussion and a debate.
"What would help us is to understand is - if we don't do this, what do we do?"
She said there were already "really good examples" of where a redesigned model of care was "delivering better outcomes".
Dr MacDonald said her aspiration was for services to be "as good if not better" after any change.