SNP MSP Christine Grahame mulls over cross-border bid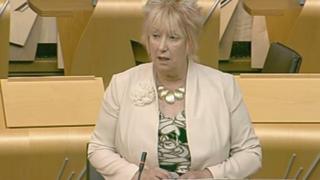 SNP MSP Christine Grahame has explained why she would consider standing for the party over the border in Berwick-Upon-Tweed at the next general election.
She said she believed the area had "much in common" with her Scottish Parliament constituency of Midlothian South, Tweeddale and Lauderdale.
Ms Grahame added it would be up to her party's national executive to decide whether to take the idea forward.
She said it was a "fairly serious proposal" on her part.
"I am making a point that Berwick has much in common with my constituents in the Borders," she said.
She said it was "very distant from London", "often overlooked" and had economic policies which did not suit it.
"I know during the referendum campaign when I debated in Berwick they were very sympathetic to my proposal that there should be devolution for the north of England," she said.
"These would be the points I would be making and further that we are good neighbours on the other side of the border.
"We share much cross-border co-operation and this will continue no matter how much extra power the Smith Commission gives to the Scottish Parliament.
"So there are serious points to be made about co-operation between the two sides of the border."
The MSP, who is half-English and half-Scots, said she thought people in Berwick might vote for an SNP candidate.
"They would be voting for Scottish independence - I am still standing on that," she said.
"Berwick, just a few years ago, voted by a majority to come back into Scotland so there is some fertile territory there.
"But I'd also be putting the case for strong devolution and, with the experience I've had in 15 years of devolution in this parliament, there is much to commend it to the north of England and the people of Berwick."
She said it was not simply an attempt to boost the number of SNP MPs at Westminster in case the party held the balance of power after a general election.
"I never play the numbers game I just think you should put your political arguments forward and see where they take you," she said.
She said there had been a lot of scaremongering during the referendum campaign and that by standing in England could show the two countries were still "good neighbours".
Devolution experience
Ms Grahame also stressed it was not solely about seeking to secure the SNP a place at future prime ministerial debates.
"I wouldn't want to use the people of Berwick in that way and I wouldn't want them to think like that," she said.
Ms Grahame also stressed she would continue to represent her Scottish parliamentary constituency "whatever happens".
"This is all speculation at the moment - I have put the idea out there," she said.
"It is a matter for the SNP at the national executive level to decide whether this idea is worth it.
"I think it is a fairly serious proposal on my part that could put forward much needed arguments for the north of England from my experience of devolution.
"But we'll see what happens in due course."