Ecclefechan murder: Dean Melnyk sentence cut for revenge attack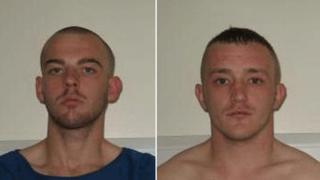 A vigilante who murdered a man he blamed for supplying an ecstasy tablet that killed his teenage friend has had his jail sentence cut.
Dean Melnyk, 21, of Lockerbie, will now have to serve 17 years for killing Kevin MacKay in Ecclefechan in 2013 before becoming eligible for parole.
He was originally jailed for 20 years along with his friend Andrew Brown, 23, earlier this year.
Lawyers for Melnyk argued he had played the "minor role" in the murder.
Melnyk and Brown took the law into their own hands hours after the funeral of their 19-year-old friend Jamie Abba.
They blamed Mr MacKay for supplying him with a lethal ecstasy tablet.
The two men travelled from Lockerbie to Ecclefechan in Dumfries and Galloway and repeatedly stabbed Mr MacKay in August 2013.
Main player
Judge Lord Armstrong sentenced the two men to life imprisonment and told them that they would have to serve at least 20 years before being eligible for parole.
However, at the Court of Criminal Appeal in Edinburgh, judges Lord Malcolm and Lord Drummond Young told Melnyk he would only have to serve 17 years.
They made the decision after hearing from his lawyer Gordon Jackson QC.
Mr Jackson told the court that his client's sentence should be cut because evidence showed he had played the minor role in the murder of Mr MacKay.
The court heard that evidence showed that Brown had been the main player in Mr MacKay's death and that there should be a difference in the sentence given to the pair.
Lords Malcolm and Drummond Young agreed and ordered that Melnyk should serve 17 years before the parole board considers whether to release him from custody.