Dumfries and Galloway learning support post cuts agreed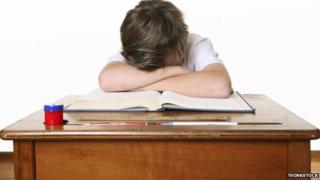 Dumfries and Galloway Council has agreed a savings package that will see more than 50 learning support posts cut over three years.
The authority is looking to cut more than £2m from the budget for pupils needing additional assistance.
Its education committee was considering two options which could have seen either 84 or 52 posts go.
It went with the second option as it seeks to deliver a more "streamlined and improved service".
Jeff Leaver, who chairs the education committee, has said that a better service can be delivered despite a cut in spending.
He said the budget covering the likes of education psychologists, classroom assistants and speech and language therapists had developed in "piecemeal fashion".
'Additional stress'
He added that it was not delivering support in the "best way possible".
It has prompted the review which will see a large number of posts lost.
Dumfries and Galloway EIS secretary John Dennis described the option selected as suffering from "serious issues".
He said additional workload would inevitably fall on class teachers as a result of the move.
"The EIS is determined to resist the additional stress that this kind of cutback will cause to workers in the education service," he added.