Borders to Edinburgh railway: Abellio outlines route goals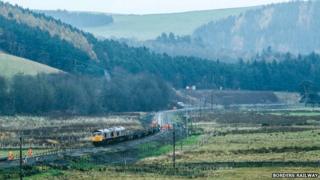 A director with Dutch firm Abellio has outlined its aims for the Borders Railway once it takes over the ScotRail franchise in April.
The line between Tweedbank and Edinburgh is scheduled to reopen in September next year.
Abellio's UK rail business development director Mike Kean said the route would be extensively marketed in advance.
He added that this would continue after trains returned - with the message that the railway was "here to stay".
Mr Kean said one of the company's aims was to make sure people from outside the Borders towns with stations - Galashiels, Stow and Tweedbank - could connect with trains as easily as possible.
"One of our goals as a transport company is to make sure people don't use the car and use the train instead," he said.
Passenger target
He said that meant ensuring people had a "really good experience" while travelling by train and that services ran on time.
"We will be running extensive marketing campaigns leading up to the launch," he added.
"More importantly, after the launch, we will make sure people understand that it is here and it is here to stay and it is here to provide a service to the communities."
Earlier this month the then First Minister Alex Salmond said one million passengers a year could be using the Borders to Edinburgh railway within five years of it reopening.
Track laying along the 30-mile route is currently ongoing with rail services scheduled to return in September 2015.