Spring Fling festival in Dumfries and Galloway expands role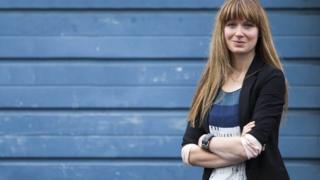 The Spring Fling arts and crafts festival is extending its role to become a "year-round operation".
The open studio event in Dumfries and Galloway in May is estimated to generate about £1.4m for the economy.
It now hopes to expand its operations to provide full-time support to artists and makers across the region.
Spring Fling director Leah Black said it was amazing how the event had become a "big success story for Dumfries and Galloway, and for Scotland as a whole".
"We now want to take the next step and become a year-round operation which gives a wide range of practical help along with the creation and production of new programmes supporting the ambition of artists and makers at all stages of their careers," she added.
"There is so much talent and potential here - we want to see it flourish.
"We also want to put even more emphasis on collaborating with other organisations to produce compelling events which showcase the artistic and cultural energy of this region."
'Practical support'
A company with a new name will be established next summer with Spring Fling also looking to boost its international profile.
Catherine Murtagh, a member of the organisation's evolution team, said: "There is a phenomenal amount of creativity in Dumfries and Galloway.
"In the coming months we will be out there discovering what kind of practical support people and organisations need."
The changes in the Spring Fling set-up are being supported by Creative Scotland's cultural economy programme.