Scottish Borders Council reintroduces scrutiny body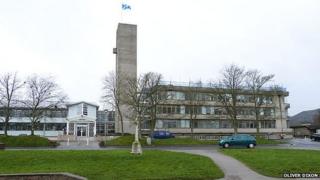 Scottish Borders Council has agreed to reintroduce a scrutiny group with the ability to challenge decisions made by its executive committee.
It is part of wider moves to create a new committee structure.
The scrutiny committee will be able to use a "call-in procedure" to review executive committee decisions.
The executive committee is taking on greater powers as it is taking over the remit of the education and social work and housing committees.
They will cease to operate from 1 January.
'Provide balance'
Instead, executive committee meetings will have themes - education, finance, performance and economic development - with general business following afterwards.
Meetings are expected to be held around every two weeks instead of the current monthly schedule.
SBC leader David Parker said: "When the current committee structure was agreed in 2012, we committed to reviewing it.
"As part of the review, it was widely felt that we should reintroduce a scrutiny committee to provide a balance and allow the executive to be challenged on decisions.
"The introduction of a deputations procedure will allow topics of public interest to be raised and while the overall number of meetings are scheduled to be a reduced from 111 to 99, the structure now means we have a more streamline decision making process in place."
Appointments to the new scrutiny committee will be made at the December meeting of the council, along with any changes to existing committee memberships.