Dumfries and Galloway school meal uptake hits record high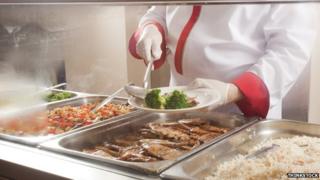 The number of pupils having school meals in Dumfries and Galloway has reached a record high level.
The latest figures are outlined in a report to the local authority's education committee.
They show that uptake in both the primary and secondary sectors is continuing to increase.
According to the report, the number of school meals served up in schools across the region has risen in each of the past five years.
School catering in Dumfries and Galloway is provided by the local authority's trading arm, DG First.
The most marked increase in uptake has been in the secondary sector.
In 2009, just 28% of students had school meals but that figure now stands at 51%.
In the primary sector, uptake has risen from just over 50% to almost 64%.
DG First said it aimed to provide high quality food with locally sourced produce wherever possible.