Canonbie coal mining proposal clarity call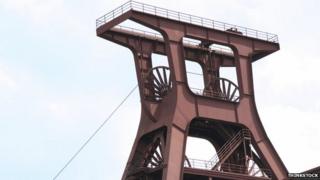 An MP has called for "detailed information" over proposals for a coal mine in southern Scotland, which it is claimed could create 270 jobs.
A scoping study for Australian firm New Age Exploration found there were supplies which could last 26 years at the Lochinvar site near Canonbie.
It said the area benefited from "close proximity to excellent infrastructure".
Dumfriesshire MP David Mundell welcomed the update but said he wanted to see "definitive proposals" for the scheme.
The Lochinvar site straddles the Scotland-England border and has been the subject of studies of its reserves over many years.
Exploratory work has also been carried out into the possibility of extracting coal bed methane in the area.
Late last month New Age Exploration published a study which concluded there were "robust economics" and "low costs" associated with a coking coal project in the area.
It projected construction could start on an underground mine in 2016 with extraction beginning the following year.
The company said it hoped to fill as many of the 270 posts as possible with workers from "nearby locations".
Mr Mundell said people needed to see detailed proposals in the planning system before they could have a "definitive view".
He also urged the Scottish government and Dumfries and Galloway Council to set clear parameters as to what developments would be possible in the area.
Local opinion
"I welcome the update from New Age, who have consistently kept local people advised of their plans," he said.
"However, until there are definitive proposals in the planning system and we know what the planning approach will be, it is difficult to comment further on these or the other separate proposals for opencast and methane extraction in the area.
"Whatever these are, the opinions of local people have to take precedence as to whether this type of industrial development is appropriate for the locality.
"That's why we continue to need detailed information about all of the proposals and importantly how they interact with each other which, like most local people, I don't yet understand."
Dumfriesshire MSP Elaine Murray declined to comment on the scheme until planning permission had been sought and there had been proper community consultation.