Earthquake felt in southern Scotland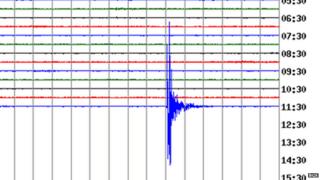 The British Geological Survey has confirmed an earthquake measuring about 2.6 on the Richter scale has affected parts of southern Scotland.
Reports of tremors in the Dumfries area were received at about 11:23 on Friday.
Data from the monitoring station at Eskdalemuir in Dumfries and Galloway also showed a spike at that time.
Descriptions included "a loud bang", "the whole house shook", "felt a vibration through my feet" and "felt like a vehicle had impacted building".
Maps showed that the quake centred on a spot near Holywood, just north of Dumfries.
The BGS reported it had been felt throughout Dumfries and in Lockerbie, Locharbriggs, Lochmaben, Lochfoot, Newbridge, Kirkton, Auldgirth, Torthorwald, Collin and Mouswald.
It follows a quake recorded in the Penicuik area at about 09:23 on Thursday which measured about 2.2 on the Richter scale - the largest in that area since 2007.
One of the largest quakes experienced in Dumfries and Galloway was one recorded on Boxing Day 2006 which measured 3.5 in magnitude.