Second Borderlands summit staged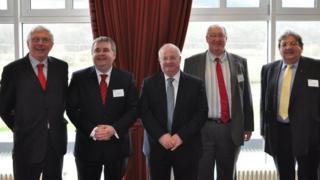 Senior members of five councils on the Scotland-England border have met to discuss economic opportunities.
The second Borderlands Initiative summit was being hosted by Carlisle City Council.
Leaders from Scottish Borders, Dumfries and Galloway, Carlisle City, Cumbria and Northumberland councils were taking part in the event.
The first meeting was held earlier this year at Peebles in the Scottish Borders.
As well as the five councils, The Association of North East Councils was also be represented.
The purpose of the meeting was to outline how work has progressed on taking forward "key economic opportunities".
It will cover opportunities that have been identified for the likes of tourism, energy, forestry, education and training.
Improved transport and communications links were also to be discussed.
Dumfries and Galloway Council leader Ronnie Nicholson said: "This meeting is a great opportunity not only to identify projects which can be advantageous to all of our communities, but to gauge how other areas are adapting to economic pressures similar to our own."