Dumfries Whitesands parking pledge over flood barrier works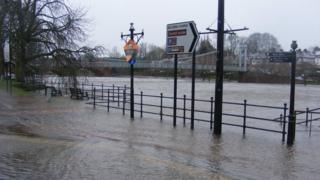 A commitment has been given to replace any car parking provision lost if a major river defence project goes ahead on the Whitesands in Dumfries.
More than 200 waterfront spaces are earmarked to go should the flood protection scheme be approved.
Dumfries and Galloway Council endorsed moves which, it is claimed, should ensure they would be replaced nearby.
There has also been agreement to free up 75 new on-street spaces regardless of whether the flood scheme progresses.
Economy, environment and infrastructure committee chairman Colin Smyth said negotiations would have to take place with owners of private car parks before the final costs were known.
However, he said that would be included in the overall £12m budget for the flooding project.
"All the costs will obviously have to be known before we go ahead with that particular scheme," he said.
"But I think it is important that we do replace any parking that is being lost - this is about supporting businesses in the town.
"They have to compete with online companies, they have to compete with out of town developments and what we have to do is to make it easy to park within Dumfries town centre for visitors and local people alike."