Dumfries hospital: Serco profit warning 'no concern' for project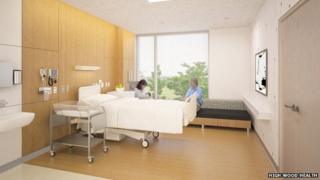 A health board has said a profits warning at a firm which is involved in a £200m hospital project will not affect the scheme, says the NHS.
Serco shares dropped 32% after it unveiled plans to raise up to £550m through selling new shares and cut its profit forecast.
It is part of consortium High Wood Health selected to build a new hospital in Dumfries.
NHS Dumfries and Galloway said it would not affect timescales or costs.
Outsourcing firm Serco saw its shares fall sharply earlier this week.
It expects to write off £1.5bn connected to losses on contracts.
The company said its forecast for operating profit in 2014 had been cut by about £20m to £130m-£140m, and it had also reduced its outlook for 2015.
'Proceed as planned'
It said a plan to sell off businesses which were not core to its future plans was already underway.
NHS Dumfries and Galloway named High Wood Health - including Laing O'Rourke and Serco - as its preferred hospital bidder earlier this year.
A spokesman for the health board said: "We have been in contact with High Wood Health about this matter and they have assured us that there is no cause for any concern with regard to timescales or costs in relation to the new hospital project.
"The board are confident that the new hospital project will proceed as planned."
It is hoped construction work on the hospital can begin in 2015 with the opening scheduled for spring 2018.