Alex Purdie abused disabled girl and brother in Whitburn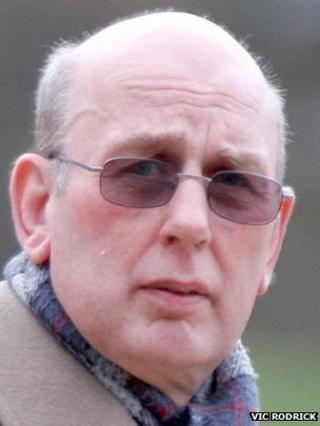 A man has been found guilty of abusing a disabled girl and her brother after luring them to his West Lothian home for sweet treats and drinks.
Alex Purdie, 49, had denied two charges of carrying out lewd, indecent and libidinous practices against the girl, eight, and her 11-year-old brother.
The court heard that the girl is now 23 but has the mental age of 10.
Sentence was deferred until 7 January and Purdie's name was added to the sex offenders' register.
Livingston Sheriff Court heard the girl described how Purdie performed an indecent act on her more than 14 years ago when she was eight-years-old.
She said he regularly invited her to stay over at his flat in Whitburn with the promise of Swiss roll for supper.
Purdie, now living in Kyle of Lochalsh, took advantage of the fact the child had a medical condition that meant she had to wear nappies until the age of 10 and abused her while she was being changed.
The girl's brother, now 25, said he was abused repeatedly by Purdie when he was 11-years-old. His treat was Mars bars, chocolates and juice.
'Scared of Alex'
The victim said the experience made him doubt his own sexuality and made him frightened of crowds.
The siblings' mother told the trial she had taken pity on Purdie and housed him when he was homeless even though her eldest daughter thought he was "creepy".
The 50-year-old grandmother - who cannot be named for legal reasons - told how he repaid her kindness by abusing two of her children.
She only found out about the sexual offences when her son told her last year what had happened during their sleepovers at Purdie's home.
She said she had a lot of arguments with Purdie at the time of the offences because her son was "scared of Alex" but refused to say why.
She told the jury: "I wanted them with me 24/7 but I didn't want to come across as the bad mum."
"I hate him. I wanted to kill him.
How would any parent feel? I felt I'd let my kids down."