Dumfries Youth Beatz festival: Ticket charge bid rejected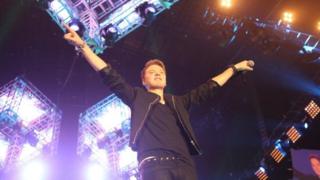 A bid to introduce ticket charges for an event billed as Scotland's biggest free music festival has been rejected.
Free admission will continue at the Youth Beatz event in Dumfries after the Nithsdale Area Committee agreed in principle to provide a £60,000 grant.
Conservative councillor Graham Bell had questioned the level of funding and suggested a £5 entry fee.
However, the committee rejected that move by 15 votes to two with one abstention.
Youth Beatz has been held six times, bringing thousands of young music fans to the town for the free event.
This year's edition was headlined by Conor Maynard.
Councillors heard that adopting a charging policy would lead to a host of new costs including ticket agency fees, additional VAT and higher policing charges, as well as the potential loss of other funding sources.
However, Mr Bell maintained it was not an unreasonable proposal.
"I do still believe it warrants a charge," he said.
"The problem is we have got a £30m budget cut over the next two or three years to save in Dumfries and Galloway Council.
"We are looking to save as much as possible and I don't think a small charge of £5 was too much to ask for."
Labour councillor Tom McAughtrie, who led the opposition to Mr Bell's motion, insisted the case for imposing an admission fee simply did not stack up.
Charging policies
He said the move could, potentially, have increased the cost of the staging the youth festival and put a valuable event at risk.
"If you put in a £5 charge then you are going to lose probably £3 right away because of various charging policies by outside bodies," he said.
"Police Scotland would increase their charges because it is a charging, profitable event rather than a charity event.
"Some of the sponsors who put money in at the moment - like the lottery - would not fund it if it was a charging event.
"We are trying to do something to give young folk in this area a bit of benefit."