Wigtownshire waste collection changes: Your views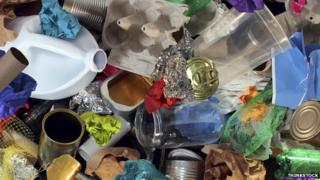 A new household waste collection system for Dumfries and Galloway has been introduced in part of the region.
Homes in Wigtownshire are the first in the area to switch from a single wheelie to a multi-bin system.
Instead of having one bin which would be sorted at an Eco Depot, every household was issued with a box for paper and cardboard, another for glass metals and plastic and an "overflow box".
In addition, they have been provided with a kitchen caddy and kerbside caddy for food waste.
The council said it had been encouraged by the high level of uptake but admitted some staff had worked overtime in order to cope.
BBC Scotland news website readers in the area have given their views of the scheme.
---
Shona McGibney
The actual boxes are not fit for purpose:
Lids are too flimsy
Overall capacity of plastic boxes is too small leading to plastics being up into general bin
Empty boxes causing a hazard on both pavements and roads
When lifting the box with net you get soaked with rain water because the drainage holes are in the wrong place
---
Anonymous
We live 1.25 miles from our rubbish collection point so when recycling is due for collection we have to load the car, leave recycling at the collection point, then go back again in the car for the plastic boxes, so if it's windy, God knows where the boxes will be.
---
Gordon Scobie
I have seen our town of Stranraer and surrounding areas deteriorate since the new waste collections began. There is an increased amount of litter in all areas of the town and the people working on these carts do not seem to care.
I have witnessed, on more than one occasion, litter falling from the cart and the operative just letting it blow away and cause an obscene litter issue.
---
Will McKenzie
I welcome the total commitment on recycling but would draw your attention to the paper collection box which after two weeks is heavy with daily papers and magazines, etc..
In my case I have to carry this bin through my garage and up the drive to the main road for collection and if a container on wheels was available the job would be much easier.
---
Louise Martin
I live on a farm just outside Garlieston in the Machars and have had no problems with the new recycling scheme. I think it's a good idea and has made our household think more about how much rubbish we generate and consequently how we can manage this in a more eco-friendly way.
---
Donald McHarrie
I don't think Dumfries and Galloway Council, or DumGal as they refer to themselves, has been particularly clever in the implementation of their new bin collection system. The containers are not fit for purpose, I know from personal experience that they get blown around easily.
The boxes themselves are made of a brittle material so break easily, lids get lost. DumGal has wasted an awful amount of council tax payers' money on them, so we feel that the whole thing has been pushed on to the residents of Wigtownshire.
---
Rosalyn Leslie
I live in Stranraer and had the service now for over a month and the whole process has been a mess since it was rolled out.
I have had to contact the council several times to try and get a resolve for my waste disposal needs, as living in a block of flats our waste is collected from a collection point in our private car park (not at a kerbside). When I first received my food waste bins I had to call the council as their leaflet did not explain where people in flats were to keep their kerbside bins.
---
Colin
I think its crazy that the council have numerous vehicles picking up different kinds of rubbish on different days stretching the staff to the limit in all types of weather, standing beside a wagon sorting out all the different types of waste.
Why can't the normal waste collection wagons take all the rubbish to central point where it is tipped onto a conveyer belt and have people sorting it all out into different containers?
---
Mark Mitchell
The new system might work in town, but it is impractical out in the country.
The main problems are:
The bins supplied are too light and there is no locking mechanism for the lids, so they would just blow away if stored outside, and they take up a ridiculous amount of space in the kitchen or porch.
For those living a distance from the public road it is fairly easy to drag a wheelie bin to the end of the lane, but the recycling boxes don't stack and don't have wheels so they have to be carried, which means making at least two trips. And on windy days they have to be retrieved from the other side of the next field.
The collection lorries are causing chaos on single track roads.
---
Shona Gilmour
There is more rubbish on our streets as the wind blows them over, two weeks ago there were boxes in the road both before and after emptying.
A wheeled bin would have been more appropriate, and recycled at depot! Not at the roadside which is taking all the time.
Our refuse collectors are exceptional and are doing their best but are of course taking most of the verbal abuse from many customers, not the decision-makers who have not thought this through very well, other areas have tried this method and very quickly changed to wheeled bins.
---
Carol Maxwell
I am a householder in Stranraer, I am aged 51 and have a health condition, I am all for the recycling but we need wheelie bins not boxes.
I have to open three gates which means lifting boxes and putting them down three times before I am out on the street, my elderly neighbour never lifted her green bin in a couple of weeks ago and it blew away - she had to order a new one.
---
Alison Smith
I was shocked and dismayed when I followed one of the new recycling collection lorries last week. Initially I followed a trail of plastic bottles and plastic waste along the road for around two miles until I caught up with the lorry.
Eventually I did catch up with the lorry and saw that the operatives have to remove everything from the individual boxes and place them in the appropriate compartments in the lorry by hand. This leads to a lot of the waste that has been collected by households being dropped on the roadside and not picked up!
---
Darran Somerville
I think that the new recycling scheme in place in Dumfries and Galloway is a great idea. We need to stop landfill. And why should the council not make money off the items? People complain about change. But it's what is needed to protect the planet.
People need to be educated better about recycling. I am a worker on the recycling lorries in Wigtownshire. Most people welcome the changes.