Nicola Sturgeon renews TV debates attack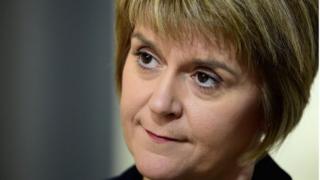 Recent opinion polls prove it is wrong to exclude the SNP from nationally-televised general election debates, the party's leader in waiting has said.
Broadcasters have invited UKIP to take part in one of three prime ministerial debates alongside the leaders of the Conservatives, Labour and Lib Dems.
But the SNP, Plaid Cymru and Greens will not be included.
Nicola Sturgeon called on broadcasters to "think again" about their plans.
The BBC said it would continue to look at any evidence of changes in electoral support ahead of the debates.
Two polls published on Thursday suggested the SNP was on course to massively increase its number of MPs at Westminster in May's election.
An Ipsos/Mori poll for broadcaster STV suggested that 52% of Scots would vote for the SNP if there was a Westminster election tomorrow, which it said would see the party increase its number of seats from six to 54.
A YouGov poll for The Times put the SNP on 43%, which it said would give them 47 seats.
The SNP's membership has also trebled to more than 83,000 since September's independence referendum, making it the UK's third largest political party with about twice as many members as both the Liberal Democrats and UKIP.
Addressing a rally of new SNP members in Dumfries on Friday evening, Ms Sturgeon - who will become SNP leader and Scotland's first minister in November - said the polls "put beyond any doubt" that excluding the SNP from the prime ministerial debates was "unacceptable".
'Direct message'
Ms Sturgeon also told the broadcasters that "it would be a failure in your duty of impartiality" if the debates went ahead as currently planned.
She said: "We are - without doubt - Scotland's party of social democracy. The party of aspiration and opportunity. The party that knows that a strong economy and a fair society must to go hand in hand if everyone in our country is to get a decent chance in life.
"And, crucially, a party with the freedom of thought and action to fashion a policy programme to support that vision.
"Which makes it all the more remarkable, does it not, that any broadcaster would even think about excluding us from general election TV debates?
"I want to send a direct message to the BBC, ITV, Sky and Channel 4. To exclude, not just the SNP, but also the Greens and Plaid Cymru, would be to wilfully ignore the reality of the political landscape that exists, not just in Scotland, but across the UK."
Calling on the four broadcasters to think again, she added: "Be in no doubt - in the general election, the SNP will be seen and Scotland's voice will be heard."
On 13 October, the BBC, ITV, Sky and Channel 4 announced plans for a total of three nationally-televised debates ahead of May's election.
UKIP leader Nigel Farage has been been invited to take part in one of the debates alongside David Cameron, Ed Miliband and Nick Clegg.
A second debate would see Mr Cameron and Mr Miliband go head-to-head, with a third debate seeing the Conservative and Labour leaders being joined by Mr Clegg.
Separately, the leaders of the four largest parties in the Scottish Parliament are to be invited to take part in a peak time debate on BBC One Scotland, which would also be made available across the UK.
However, the Scottish Greens would not be included despite having two MSPs at Holyrood. A third MSP, John Finnie, announced last month that he had joined the party but said he would continue as an independent member of the parliament until the next election in 2016.
'Public consultation'
The broadcasters said the proposed formats reflected "changes in the political landscape" since the three prime ministerial debates during the 2010 general election, which featured Conservative Mr Cameron, Labour's Gordon Brown and Lib Dem Mr Clegg.
But at the time, the SNP criticised the proposals as being "utterly unacceptable to any democrat" and the party was reported to be considering legal action.
Responding to Ms Sturgeon's comments, a spokesman for the BBC said: "We make editorial judgements about coverage during the general election campaign informed by evidence of past and current electoral support.
"Opinion polls are part of that evidence whereby we take account of consistent and robust trends across different polls over time, rather than reacting to individual polls.
"We have also said that we will continue to look at any further evidence of changes in electoral support as we get closer to the election campaign. The BBC Trust will be launching a public consultation on the relevant guidelines next week."