Grant hope for Cathkin Braes mountain bike centre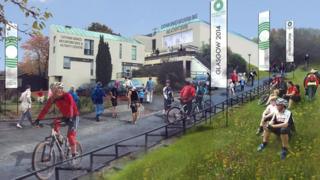 Plans to revamp a disused church into a mountain bike centre at the Cathkin Braes Commonwealth Games course are on the brink of securing major funding.
The Heritage Lottery Fund has given initial backing to the bid for a £1.05m grant to transform the B-listed former St Martin's Church in Castlemilk.
The move includes a grant of £179,900 to further develop the proposal.
Glasgow Building Preservation Trust and Ardenglen Housing Association have two years to submit final plans.
The church, built in 1961, is next to Cathkin Braes Country Park, which hosted the Games' mountain bike events.
The vision is to convert the now redundant church to become the Cathkin Braes Mountain Bike and Activity Centre.
'Exciting project'
Colin McLean, head of the Heritage Lottery Fund in Scotland, said: "This is an exciting project which has been driven by the enthusiasm of the local people of Castlemilk who want to see this empty historic building brought back to life.
"What better way to do that than to build on the incredible success of the mountain biking at Cathkin Braes during the Commonwealth Games."
Glasgow Lord Provost Sadie Docherty said: "Glasgow's first purpose-built international mountain bike course at Cathkin Braes is already a permanent legacy from this summer's Commonwealth Games, providing world class facilities for the people of Glasgow.
"I am delighted that this award from the Heritage Lottery Fund can help deliver more legacy benefits - including local jobs and improved facilities - from the development of St Martin's Church in Castlemilk into a mountain biking and sports resource centre that can serve both those using the course and the local community."