Dumfries coffee shop dash saved love bird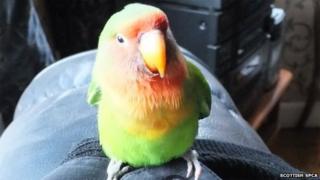 Scottish SPCA officers used warm water and sugar from a nearby coffee shop to revive a love bird found "on the brink of death" in Dumfries.
It had been spotted by a member of the public on the town's Birchfield Place on Wednesday.
Animal rescue officer Tracy Cannon said the bird was "stunned and looked like he had no life left in him".
However, the coffee shop "cure" revived the bird - who they have named Costa - and they are now seeking its owner.
Ms Cannon said such a recovery had seemed unlikely when they found the bird.
"He wasn't moving and was lying with his wings spread," she said.
"Just as it looked like all hope was gone, I noticed his eye flicker and straight away we got him into our van to heat him up.
"He was clearly in shock so a colleague ran to the nearest coffee shop to get some warm water and sugar which we used to help revive him.
"Within around half an hour he was happily chirping away and sitting on my shoulder, it was miraculous."
She said it was likely the bird had escaped and its owners would be worried.
"The recent cold snap would have been difficult for him to bear and luckily we got there when we did," she added.
"With his bright feathers, he would also have been vulnerable to predators such as wild birds and cats.
"We're now appealing to anyone who knows who Costa may belong to, to get in touch with us."