Dumfries and Galloway police figures show violent crime drop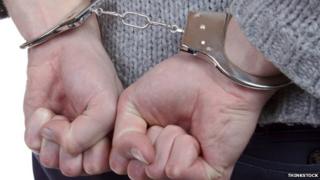 Levels of violent crime in Dumfries and Galloway have dropped by nearly a third, according to new police figures.
There was also a marked drop in alcohol-related disorder, but the number of reported sexual offences and domestic abuse cases both increased.
Data for the past five months shows 50 cases in the "group one" category for violent crime - a fall of 23 compared with the same period last year.
Police said the trend was linked to their violence reduction strategy.
It has been used to target known offenders and increase patrols at trouble spots.
There has also been a 20% reduction in incidents of drink-fuelled disorder and anti-social behaviour, with just under 2,200 cases reported.
However, domestic abuse crimes have increased by just over 100 compared with 2013 - a rise of almost 25%.
There was also a 15% increase in sexual offences, although police said a significant number of the 122 cases dated back many years.
The figures also highlighted a significant increase in cash seizures linked to stop and search operations, with more than £250,000 of suspected crime money recovered and referred to the courts.