Selkirk flood protection scheme groundwork nears completion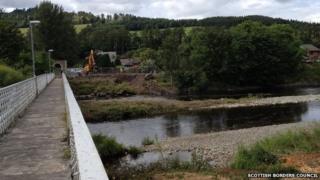 Groundwork being carried out ahead of construction of Selkirk's £31.4m flood defence scheme is almost complete.
The main contractor for the project is set to be announced next month.
No major problems have been encountered in moving and redirecting pipes and cables, with a dry summer and low river levels helping speed up works.
Once completed, the scheme will remove 595 properties in the Bannerfield, Philiphaugh and Riverside areas from the national flood risk register.
It will do so by protecting against the effects of flooding from the Ettrick and Yarrow waters and Long Philip and Shaw burns.